---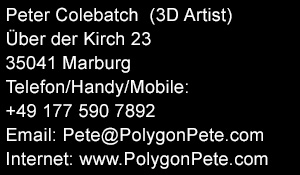 Haftungshinweis: Trotz sorgfältiger inhaltlicher Kontrolle übernehmen ich keine Haftung für die Inhalte externer Links. Für den Inhalt der verlinkten Seiten sind ausschließlich deren Betreiber verantwortlich.
Notice of liability: Despite thorough assessment, i take no responsability for the content of any external link provided on this website. The carrier for the linked sites are entirely responsibility for their own content.
Copyright © 2012 : All images at PolygonPete.com are Copyright! Either to Peter Colebatch or the Company for whom they were created. Do not copy, reproduce or distribute any image on this website.